Change Your Life Forever...
We pride ourselves in our excellent client care, if you are suffering from Medically-Related Hair Loss or Chemotherapy-Induced Hair Loss we can help. Profiles offers Hair Extensions, Hair Replacement Systems, and Hair Loss Treatment Products for both Men and Women.
Profiles By Kristin offers you:
A FREE consultation to explore all of your options, it's strictly a confidential environment.
Each system is custom-cut, shaped, and styled to accentuate your features and lifestyle.
We help you decide on the perfect color and style that enhances your natural beauty.
All of our services are performed in private styling rooms.
Many years of hands-on experience in Hair Replacement style and design.
A variety of Hair Loss Treatment Products to provide you with a healthy scalp environment and help with faster hair re-growth. (Refer to our products page)
The most natural, secure, comfortable, light weight, part anywhere systems available.
We Provide Services to Those With:
Thinning Hair, Chemotherapy & Radiation, Alopecia, Trichotillomania, Lupus, Gastric Bypass, Thyroid Conditions & Anemia, Stress, Diet & Poor Nutrition, Change In Medication, Burns, Accidents & Head Trauma, Medically Related Hair Loss, Male & Female Pattern Baldness, Hormonal Hair Loss & much more!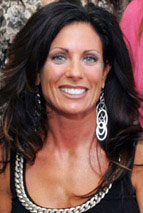 Kristin Webb, Owner & Founder
With over 25 years of experience in the Hair Replacement industry, we are well acquainted with the private and emotional aspects of hair loss; our studio is designed with this in mind. With private consultation rooms to individual styling rooms, we give each of our clients the confidentiality they seek. We are committed to providing the very best in Hair Replacement solutions no matter how unique your situation. Our staff strives to be supportive and sensitive when addressing our clients individual needs. All information exchanged with our clients is completely confidential and all of our services are performed in private styling rooms. We uniquely blend a Hair Replacement Studio, Thinning Hair Specialties, and select Spa Services all in one convenient location.
Have a question about Hair Extensions? Call us today at (315) 454-3132 for your FREE Consultation!